OBJECT CARPET
Eco-Friendly. Artistic. Unique.
When you're looking for a stunning, eco-friendly carpet, look no further than OBJECT CARPET. Throughout their 40+ years of business experience, they have won multiple awards for their innovative woven carpet and tufted carpet designs. They do not just follow trends, they set them. OBJECT CARPET's distinct sense of beauty in architecture, color combinations, and new technologies motivates them to press boundaries and help visions become reality. Their confidence isn't unfounded, which is why we proudly offer their products. All OBJECT CARPET products are made in Germany, which guarantees high quality. No compromise.
Product Details
OBJECT CARPET manufactures both woven and tufted carpets in both broadloom and carpet tiles. In addition to these collections, we also distribute their Freestile and Plankx collections. No matter what aesthetic is in your space, OBJECT CARPET can take it to the next level. While all products are designed to retain their appearance in commercial environments, many can easily cross over for residential applications.
Regardless of commercial or residential application, OBJECT CARPET provides high-quality eco-friendly carpeting options for your location. This is why Summit International Flooring works as their distributor, bringing beautiful, durable carpet into your business and home. We are the only OBJECT CARPET US distributor because of our similar beliefs in beauty, quality, and luxury. You can trust us to bring only the best products into your space.
Using the most resilient nylon fiber carpet available, OBJECT CARPET combines matted and high luster yarns to add texture and life into the visual and textural experience of their carpets and rugs. This means that most of their products will stand up to the heaviest traffic without worry in both commercial and residential areas. Further explore their collections below.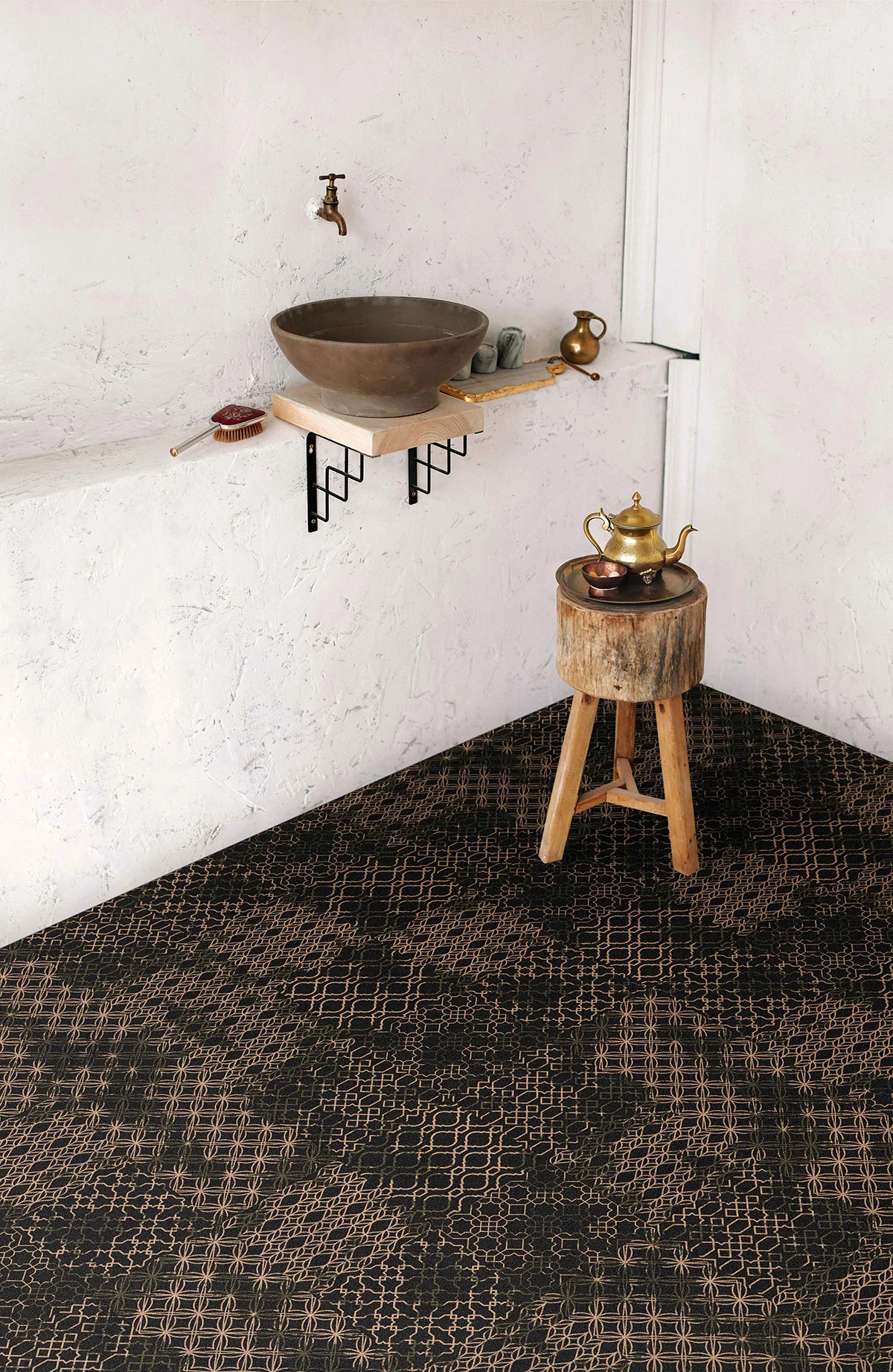 All images © OBJECT CARPET
Design a room with the carpet of your choice using their Configurator!
Summit International Flooring is proud to be the exclusive US distributor of OBJECT CARPET:
Click the name below to jump to product | For a complete list of collections, please visit OBJECT CARPET's website
In addition to the Freestile and Plankx collections, a majority of OBJECT CARPET designs are also available in tile format. Call to discuss!
Block | Industrial | Route | Surface | Textile | Timber | Transfer
Majority of broadloom designs are also available as carpet tiles, call to inquire!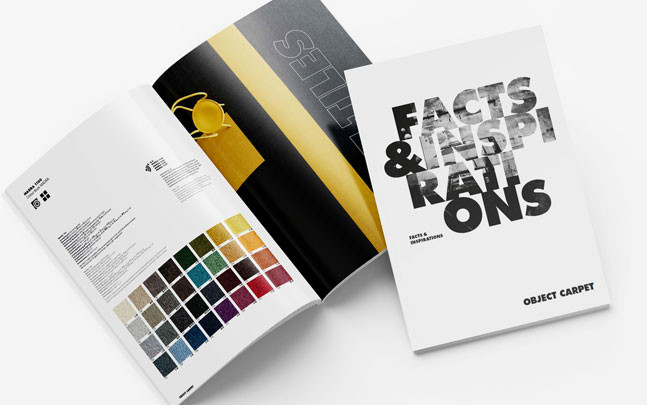 FACTS & INSPIRATION
The FACTS & INSPIRATIONS collection offers a unique feature: it consists of 55 different qualities available in both broadloom and Acoustic Tiles. The Acoustic Tiles, in the classic 50 x 50 cm format, share the positive attributes of broadlooms and belong to a high-comfort class. They effectively reduce fine dust, minimize footfall noise, and enhance overall room acoustics. Both product types are designed to maintain their stability and performance for many years. Their high density and thermo-fixing of the back coating ensure longevity, making them an ideal choice for high-traffic areas.
♻️ = Made from 100% recycled materials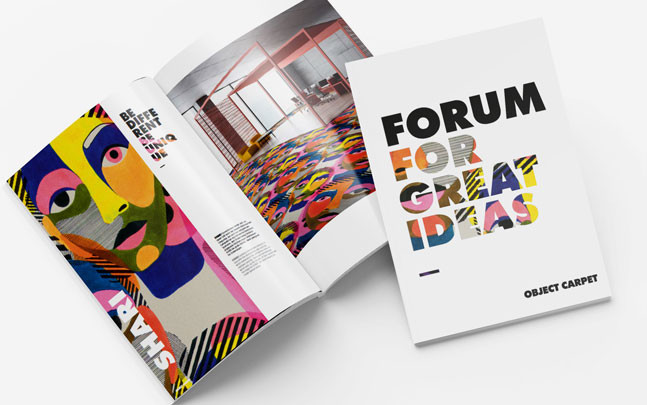 FORUM FOR GREAT IDEAS
FORUM offers customized flooring with endless creativity. With 18 designs in four color variations and four quality options, it provides endless styling possibilities for large rooms. FORUM offers combination opportunities with varying styles, including broadloom and acoustic tiles, as well as the option of custom rugs. It is robust, durable, and suitable for intense use in various spaces such as lobbies, retail and office spaces, hotels, and large private residences. FORUM allows you to individually design the center of your space, defining its character and spirit. Available for areas from 1000 square feet and up.
Click the design(s) below for color options, product info, and to order samples.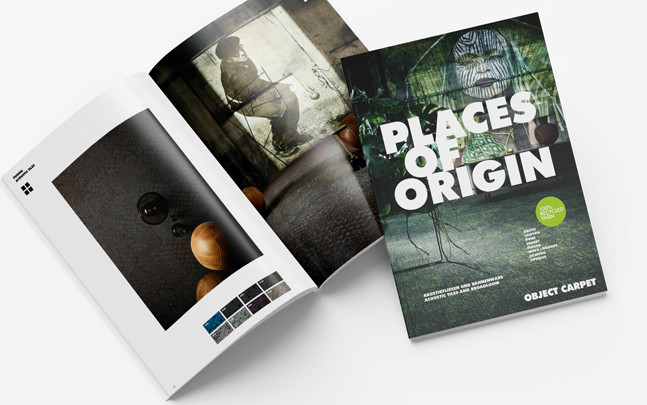 Places of Origin
A tribute to humans and nature – and to the senses
Introducing the PLACES OF ORIGIN collection: 8 unique carpet designs in exclusive colors. Inspired by natural and urban formations, these products showcase lively patchwork design, highlighting the diverse technical possibilities that define their distinctive character. With high-low structures in a tuft-embossed cut-loop technique, a blend of loop and velour creates captivating relief surfaces that vary in appearance depending on the color.
♻️ = Made from 100% recycled materials
Click the design(s) below for color options, product info, and to order samples.

FREESTILE, presented by OBJECT CARPET, is a cutting-edge SL (smooth loop) tile that showcases an innovative flat weaving technique. This next-generation carpet tile boasts a contemporary and resilient surface while preserving the health benefits and walking comfort associated with carpet flooring.
The FREESTILE collection offers durability and modesty comparable to hard floors while retaining the proven advantages of a textile-woven surface. Notably, it enhances room acoustics by up to 20% compared to other hard floors. Its exceptional walking comfort makes it a favored choice for interior solutions.
Click the design(s) below for color options, product info, and to order samples.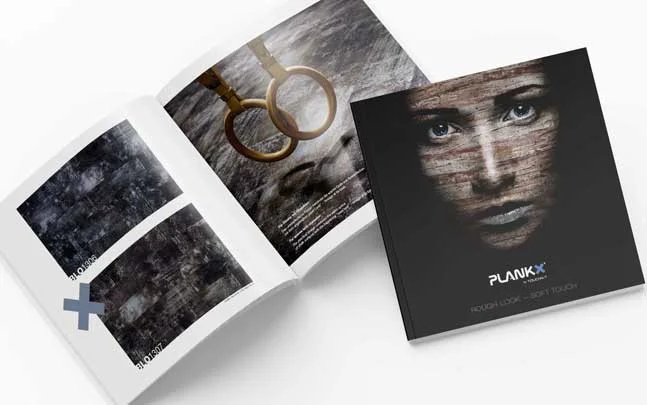 Plankx Carpet Tiles
Easy and quick to fit, the innovative PLANKX carpet tiles create a unique feel-good atmosphere in hotels, offices, or shops. It's a strong product that can withstand the heaviest traffic, with high walking comfort & room acoustics optimization.
PLANKX is available in many different design options to fit you or your client's style. Whether your design calls for a colorful bold pattern, a warm weathered wood, or a cool industrial look, PLANKX has a design for you! Each plank measures 10" X 40" and can be laid in 6 different layouts.
Click the design(s) below for color options, product info, and to order samples.
Contact Us
We look forward to every opportunity to help you bring your project to life. Drop us a line to get the ball rolling!