Vertisol | fitnice
WOVEN VINYL
Modern. Artistic. Variable.
Vertisol | Fitnice Woven Vinyl is a combination of art, design, and modernity. But above all, this flooring is made with one goal in mind: customer satisfaction.
Furthermore, in a land where every resource is important, ingenuity has no bounds. The vineyards rise above ground to preserve the grapes from humidity, held by a network of carefully designed grids that are reminiscent of the structure of our fabrics. In other words, everything they do revolves around their heritage. As a result, consumers can tell that their woven vinyl comes from a city where inspiration and innovation are constant and beauty is the ultimate goal.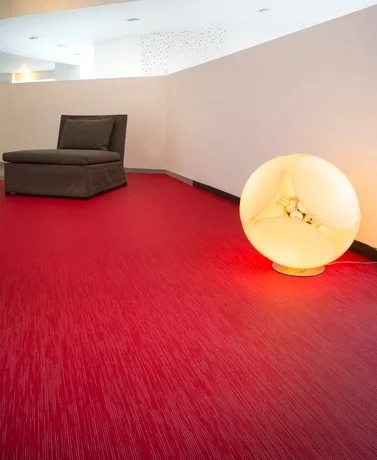 Vertisol | Fitnice creates a woven vinyl product that is made from a monofilament covered with PVC, which is manufactured in Spain. It is then created into rolls or three different shapes: square tiles, planks, and diamonds tiles, allowing multiple combinations and effects. Furthermore, their flooring has written warranties for both indoors and outdoors. Additionally, they offer their woven vinyl in applications such as rugs and wall coverings.
Work and creativity, effort and precision, excellence and ingenuity, Atlantic and Mediterranean. Indeed, they couldn't do things any other way.
Note: woven floors have a texture, so the proper way to clean them is with an extraction machine that incorporates rotating brushes. Between extractions, vacuuming will help, and most stains can be spot cleaned with a pH neutral cleaner, warm water, and a sponge.
Summit International Flooring is proud to be the exclusive US distributor of Vertisol | Fitnice Flooring & Wall Cover
VERTISOL FITNICE FLOORING
Click below products for additional color options & to order samples
VERTISOL FITNICE WALLCOVER
VERTISOL FITNICE INSTALLATION GALLERY
Contact Us
We look forward to every opportunity to help you bring your project to life. Drop us a line to get the ball rolling!