We all know the expression "when it rains it pours", but what about when it doesn't rain? Long dry spells, especially in the summer, cause numerous problems. Droughts and climate changes are creating an increasing water crisis throughout the world. As water becomes more precious and less available, maintaining a lush, green lawn becomes more challenging.
Summit International Flooring has the solution. We offer the most realistic-looking and feeling turf available anywhere in the world. The mix of numerous green grass colors and a sparing amount of two different brown grass colors allows for the aesthetics of a real grass lawn.  While others manufacture turf with polypropylene yarn, our yarn system allows our leisure turf to feel just like real grass. Once installed, a sprinkling of silica sand (which cannot be seen or tracked off the turf) allows the turf to remain at a comfortable temperature that it can be walked on without burning bare feet.
Yes, we have sports turf that holds up to the harsh traffic of jogging tracks or the abuse of sleds in cross-fit gyms. However, our leisure turfs, Lounge and Grasslands, are perfect for retaining an impeccable lawn that is sure to be the envy of all your neighbors.
When it does rain, the water drains through inconspicuous perforations that prevent water from pooling. Pet urine drains through as well.  Other pet deposits can be removed, then some bleach can be spayed onto the spot and rinsed with water.  When leaves fall, they can be removed with plastic rakes – which also helps to revamp the fibers and enhance the fullness of the turf.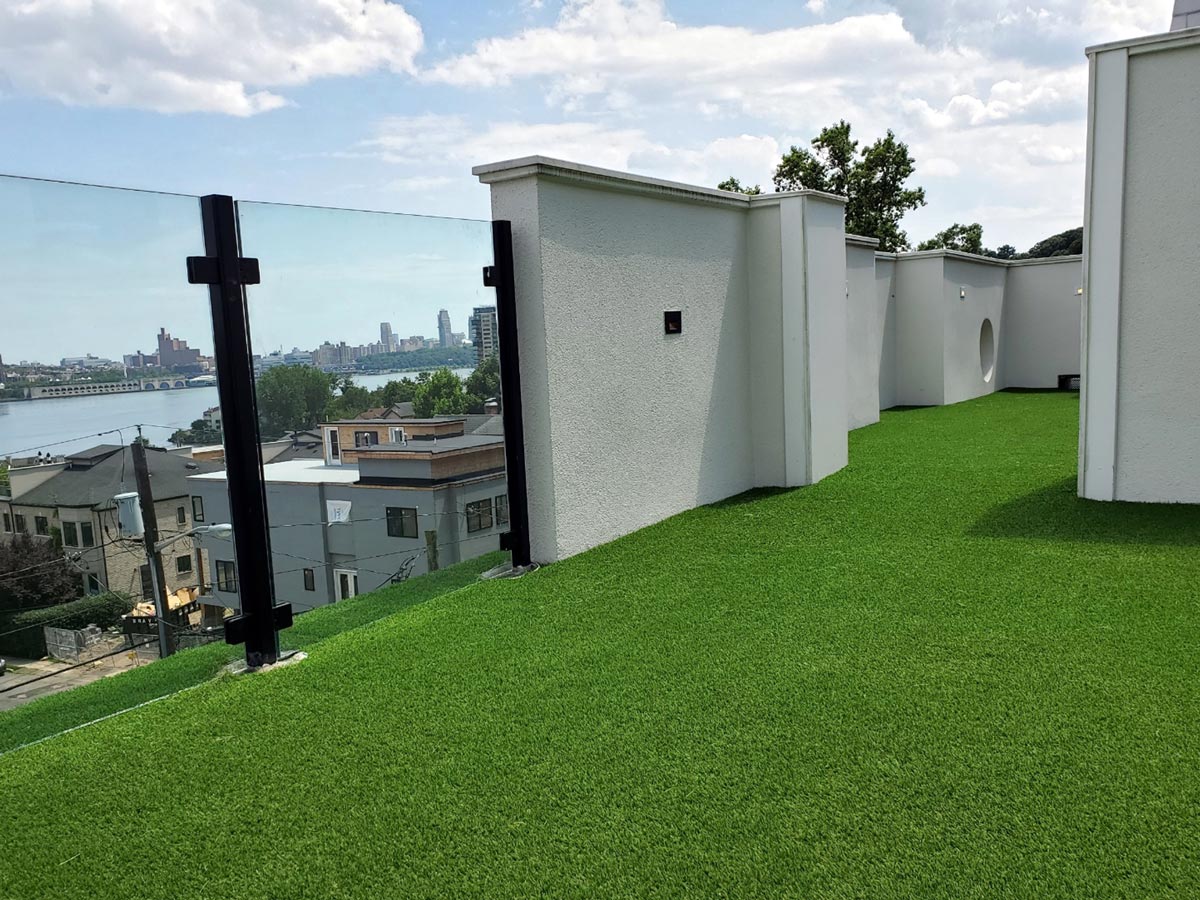 In addition to the realistic-looking green grass, both our sport turf products and our leisure turf products are available in additional colors, which may be perfect for hospitality projects. Artificial turf offers the convenience of a beautiful maintenance-free lawn, saving time and money on landscaping, with the exceptional sustainability benefit of reducing water usage and aiding in the preservation of resources.
For realistic turf and other unique luxury flooring & wall products, please browse our website and give us a call to discuss your projects.  Summit International Flooring will meet your expectations of reasonable pricing, quality product, and unparalleled service.